My visit to the Midwest last weekend involved nearly 700 miles of driving, most of it along routes that have been familiar for decades.
But even an oft-traveled road changes over the years. As I drove these habitual highways Saturday and Sunday, my first time on any of them in over a year, I noted new sights and some I had seen countless times before. Some probably aren't new, but I noticed them for the first time. Others I've noticed as new on previous drives. But they weren't there when I started driving that route, so some of them still feel "new" two years later. Or four years. Or 10.
My plans
I always planned this to be a quick trip. I finished my treatment for lymphoma just two months ago, and was always planning to make my first trip, after allowing time for recovery, to Kansas City to visit my mother, whom I hadn't seen in over a year. I figured I'd run up to Shenandoah, Iowa, about a two-hour drive, and also visit my brother, Don, and his family on the same trip. I could do it easily in a weekend.
Two developments changed plans for my trip. A source from a long-ago story reconnected. After talking with her, I wanted to update her story, so I decided to add a vacation day to my plans and interview her in Omaha. Then I learned last Thursday of the death in Pella, Iowa, of Don's grandson, Keaton Poulter. So instead of visiting Don's family in Shenandoah on Sunday, I decided to join them in Pella for the visitation at Keaton's family's church.
Some observations on the roads I traveled (mostly from memory, rather than notes, since I was driving):
KC to Omaha
I bet I've driven some or all of this road, mostly Interstate 29, a hundred times or more. When we lived in Kansas City (1985-91), we drove the first stretch several times a year, visiting Don's family and my father-in-law, who lived in Essex, just six miles from Shen. When we lived in Omaha (1993-2005), we'd drive the northern part of this route frequently to visit the same Iowa relatives. After my mother retired to Lee's Summit, Mo., we'd drive the whole route multiple times a year to visit her or to watch the Royals or Chiefs play. I drove some or all of the I-29 route many times as a Kansas City editor and reporter or as an Omaha reporter, covering stories in Kansas, Missouri, southwest Iowa or southeast Nebraska, and visiting a Kansas City Times bureau in St. Joseph.
Along this route, I know each exit in order by heart. When I hit St. Joe, I know I have the first leg of the trip behind me. As many times as I've driven this route, I have never stopped to see the Pony Express or Jesse James museums. It's too early in the trip, and I'm trying to put the miles behind me. I recall a billboard years ago proclaiming St. Joe as the town where the Pony Express began and Jesse James ended. (I think it's long gone; didn't notice it this time and couldn't find it on Google Images.)
Except when our sons were young and failed to heed our admonitions about going to the bathroom before departing, I seldom stopped in St. Joe.
In November 2014, my last time down this highway, St. Joe was actually my destination for the first time since the 1980s, when the Times had its bureau there. I was a panelist at a journalism ethics conference at Missouri Western State University. I did finally visit a St. Joe museum, at the Walter Cronkite Memorial on campus, a new tribute to the famed broadcaster who was born in St. Joe. I just smiled at the memory as I zipped past the campus Saturday.
I stopped, as I have dozens of times, at the Rulo exit to grab a soda and a snack at a gas station that's collected a lot of my money over the years.
North of Mound City, I always check the spot where, in covering floods in 1993, I saw water gushing through a breach perhaps 50 yards long in a levee along Squaw Creek. For years after, the different shade of grass would show clearly in the spring and summer where the levee had been rebuilt. Mostly brown in February (I was fortunate to travel on warm winter days with no snow on the ground or falling), the repaired stretch of levee draws no attention now. But I could still see it. Faintly. Or maybe I just know where the rupture was and will always see it in my mind.
Several exits brought memories of reporting assignments: one for a story about a prison, another for a murder, two or three for those '93 floods.
The change that most drew my attention on this drive was the water tower in Craig, Mo., at the exit for U.S. Highway 59, our most direct route to Shen and Essex. We could always spot our exit by the water tower (I recall is as a blue bulb-shaped tower, though I don't guarantee the accuracy of the memory, and couldn't find a photo on Google or Flickr). It was a milestone on our trip north, well over halfway, and our shift from Interstate highway to country roads. The tower was visible on the horizon before we approached the exit sign for Craig. Well, water towers don't last forever, and now Craig's is white and flat-topped, with an American flag painted on the side you see as you approach from the south, left of the town's name. In the only photo of the current water tower that I could find online, the stripes of the flag are barely visible. To the right of the name is another painting I missed Saturday, perhaps a high-school sports mascot.
I can't drive past the Rock Port exit without recalling my youthful days working summers for a Shenandoah ice company. Construction on the last stretch of I-29 finished in the mid-1970s, and the crews would come to a Rock Port gas station each morning to put 15-pound blocks of ice in their huge water coolers. My job was to have the ice there early. I usually zip past Rock Port without stopping now, but seldom without thinking of my days delivering ice.
As I approached the Iowa line, windmills reminded me how agriculture and energy have changed in this region. More about that when I get to Sunday's leg of this journey.
Just north of Rock Port, I entered Iowa. Here every exit has a memory. At Hamburg, Sidney, Tabor and Glenwood, I recall sporting events I covered in the high-school beginnings of my journalism career. I also recall a traffic ticket when passing Glenwood. Other exits bring memories of still more news stories.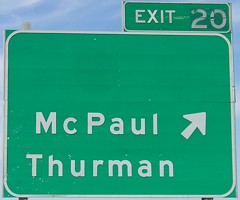 Driving alone last weekend, I had to call my usual traveling companion when I passed the exit for the tiny towns of Thurman (population 213) and McPaul (no longer incorporated, not even on the official state map, but still on the exit sign). The volunteer fire chief in the fictional Iowa town of Lindsborg in my companion's novel, Gathering String, is Thurman McPaul, taken from this very Interstate exit. (He's not the only character in the novel, or drafts of future novels, to be named after a highway sign.)
Not far north of Glenwood, I-29 merges briefly with Interstate 80 in Council Bluffs. I stayed on I-80 when I-29 branched north and headed into Omaha for my interview and later for dinner with friends from my days at the Omaha World-Herald. I should note here that Omaha, Des Moines and Kansas City, metro areas where I used to live and work, all had similar mixes of new and familiar sights. But my focus here will stay on the rural highways I drove.
Omaha to Des Moines
I'm certain that I've driven I-80 between Omaha and Des Moines more than 100 times. Could be 200 or more. When we lived in Des Moines in the 1980s, we had family living in Omaha. When we lived in Omaha, the same relatives lived in Des Moines. When I worked both places, I traveled that highway countless times for stories. From 1998 to 2000, I worked for the Des Moines Register a second time, while the family stayed in Omaha. So I commuted this route each way weekly. I used to joke that I could drive the route in my sleep. To my knowledge, I never proved that.
Before I decided in 2000 to return to the World-Herald, my companion and I briefly did some house-hunting in the little towns along I-80 between Omaha and Des Moines, primarily Avoca and Harlan. We actually made an offer on a house we called "Pinkie," for its not-understated shade of paint. I texted her from an Avoca gas station Sunday morning and we agreed we were glad that offer wasn't accepted and we didn't take on those long commutes in opposite directions.
My companion grew up in the rolling farmland of southwest Iowa and when we return to those green fields in the spring or summer, she waxes nostalgic about the beauty of the Iowa countryside. On a warm February day, though, Iowa's rolling hills are 50 shades of brown.
Along I-80, especially in the winter, the horizon is dominated the last decade or so not by waving fields of corn and soybeans, but by waving turbines harvesting Iowa's year-round cash crop: wind energy. Looking right, left and straight ahead, you can see 50 or more gigantic sets of propeller blades at a time spinning in the wind at several points along I-80.
The turbines, mostly seen from a distance as you drive past have become such a staple of the Iowa landscape that the westbound rest area between Adair and Casey now features a single huge turbine blade, a bit of rural sculpture standing erect so you can see up close how massive the blades are. I was heading east, though, so I sped past without stopping.
The idea for this post didn't occur to me until I started out Sunday morning, so I had taken no photos Saturday. But I started early enough that I had plenty of time Sunday, so I stopped for a few photos, starting with the turbines.
I love the signs advertising tourist attractions in western Iowa: Elk Horn's Danish Windmill not a modern turbine, but a tribute to the town's immigrant heritage; the Bob Feller Museum in Van Meter, a tribute to the hometown baseball legend; Walnut proclaiming itself "Antique City."
A billboard touting an attraction I didn't remember beckons drivers to visit the Iowa Aviation Museum in Greenfield, home of the Iowa Aviation Hall of Fame. I chuckled, wondering who could be in such a Hall of Fame, the pilots of the planes that crashed in Iowa, killing Rocky Marciano in 1969 and Buddy Holly (along with Ritchie Valens and J.J. "The Big Bopper" Richardson) in 1959? As I drove along, I ran through famous aviators mentally and couldn't think of any from Iowa: the Wright Brothers were from Ohio (along with Eddie Rickenbacker, John Glenn and Neil Armstrong); Amelia Earhart was born in Kansas and started flying in California; Sally Ride was from California, Chuck Yeager from West Virginia, Jimmy Doolittle from California and Alaska. I spent a decade at the Des Moines Register, where even a brief stay within the state's borders qualified you as a "former Iowan" worthy of coverage, and could not think of a single famed aviator from Iowa. But now the state has an Aviation Hall of Fame, claiming to be worthy of a stop for I-80 travelers.
After getting home, I checked, and I didn't forget any household-name aviators who were truly from Iowa, but the museum honors members of the Doolittle's Raiders and Tuskegee Airmen from Iowa, as well as Neta Snook, who taught Earhart to fly. I was chagrined to realize I had forgotten that the Wright Brothers spent three childhood years in Cedar Rapids, and they're in Iowa's Hall of Fame. But really, they're from Ohio. I also had forgotten former Register photographer/pilot Don Ultang, whom I featured last year in my journalism blog.
Neither the museum's home page nor its Wikipedia page tells when the museum opened, just that the Hall of Fame started in 1990, preceding the museum's founding. If you know when it opened, fill me in and I'll update. If it was open from 1998 to 2000, when I was making my weekly commute down this highway, I swear it didn't have a billboard.
I'm a sucker for an aviation museum and might stop at that one some day.
But Sunday I stopped for only two tourist attractions, one of which doesn't even merit an I-80 sign.
My companion told me years ago about the plow-in-the-oak park, along Highway 71 between Brayton and Exira, less than 10 minutes north of I-80. The local legend is that a young farmer leaned his plow against the tree and went off to join the Union Army in the Civil War. He never returned and the growing oak tree enveloped the plow. My companion remembered her grandparents telling her the legend and showing her the tree when she was a little girl.
I had visited the tree only once, 20 or so years ago. The blade barely poked out one end and only the handle was visible on the other end. I wondered then how long until the plow disappears entirely into the oak.
Running ahead of schedule Sunday, I decided to take the 15-minute detour to check. I can report that both ends of the plow remain visible in the roadside park. I think you'll be able to see both ends of the plow for another 20 years at least, maybe 50. I also think that farmer-soldier and his plow deserve a sign along I-80.
Though a historic tree doesn't get an I-80 sign to entice travelers to stop, a painted rock does. The Freedom Rock, just over a mile south of the Greenfield exit, is a 60-ton boulder, unearthed from the Iowa soil by a farmer and repainted each May before Memorial Day by artist Bubba Sorenson with a different tribute to America's veterans. As a son of an Air Force chaplain, I was pleased to see this year's tribute to the four chaplains who gave up their life jackets to others after their transport ship, the Dorchester was torpedoed and sunk by German submarines in 1943.
After stopping to see the plow in the oak tree and Freedom Rock, I didn't have time to detour for one of Iowa's most famous tourist attractions, the Covered Bridges of Madison County, which were a popular place to visit even before the book by Robert Waller and movie by Clint Eastwood (I see that it's also now a musical). My usual traveling companion and I spent a romantic weekend in the area years ago that included a tour of the bridges. I'd rather visit with her anyway, if we're going to return.
Not long after zipping past the exit for the bridges, I was having lunch in Des Moines with my in-laws.
Des Moines to Pella
This route was the commute to my first teaching job, at Central College in Pella, for two winter quarters back in the 1980s. My commute took roughly an hour each way, twice a week in 1980-81, three times a week in '83-'84. That's 60 or so round trips. And my traveling companion and I celebrated more than one wedding anniversary at the Strawtown Inn, a charming restaurant and bed-and-breakfast in Pella. I came to town a few other times working on news stories or visiting my niece whose family lives there. Or, if a story took me through town, I'd stop for a Dutch letter at the Jaarsma Bakery. I won't claim a hundred times down this route, but it's several dozen.
And I must confess: I wasn't driving the same route Sunday that I commuted in the '80s. Highway 163 was a two-lane highway back in the day, meaning I slowed down (a bit) going through Prairie City, Monroe and Otley. Sunday I zipped past them on a four-lane divided highway. Would have made the commute to class much easier. I might have been stopped by police a time or two on old 163 back when I was teaching at Central. Some memories fade deliberately. My companion tried to clarify when reading a draft of this post, but I think her memory is equally faulty, in the other direction.
I don't know whether it was the higher speed, the fact that this was the shortest leg of the trip or my reflection on the tragedy that brought me to Pella Sunday, but fewer roadside sights caught my attention. Still, I think Prairie City, Monroe and Otley might all have new water towers since my commute of the '80s. Or maybe they just painted them.
Pella to Osceola
After spending a couple hours with grieving relatives at the church in Pella, I wanted to get headed to Kansas City early enough that I could reach Interstate 35 before dark. This was the only leg of the weekend trip I hadn't driven before. I'd driven stretches of it, but I don't think I ever drove Pella to Osceola, a back-roads route that included U.S. and state highways and two county roads.
I started off driving across Red Rock Dam, then turned south at the outskirts of Knoxville. I wondered if Knoxville was the largest Iowa town from which I never got a dateline (and I wouldn't guarantee that I never did, but I don't recall one). It might be. Signs pointing out turns to other towns reminded me of other datelines, though: A small-town murder in one town, a sheriff who threatened a photojournalist and me with a hammer outside another, a winter assignment so cold my company car needed a jump.
One sign I had never seen before (that I recall) in my Iowa travels pointed to the Stephens State Forest. Yes, Iowa has a "state forest" (a few, actually). From the highway, it looked kinda like a grove to me.
Again, the water towers stood out to me, not town water towers that had changed, but rural water towers reminding me of visiting some of these tiny towns for a story about the formation and growth of rural water associations bringing treated water to farm homes that previously relied on private wells. (That might have been the story when my car needed a jump.)
We don't need to go into the missed turn that added a minute or so to Sunday's trip. Or the wrong turn that added five to 10 minutes. Those also were brief trips down memory lane. Not that I had missed or made these same wrong turns before. But my reporting travels along Iowa's back roads involved more missed and wrong turns than I will confess more specifically than this.
Osceola to Kansas City
Again, I was back on familiar ground. When I started at the Kansas City Times in 1985, it took 2-3 months to sell our home, so I commuted weekly between Des Moines and Kansas City, with Osceola marking the first or last leg of the trip, depending which way I was heading. For a few Kansas City reporting trips in Iowa, I also took this route. When I lived in Cedar Rapids for two years, this was the final (or first) leg of the trip to or from Mom's home. I've probably driven it as many times as the Des Moines-Pella route, but fewer than the routes to and from Omaha.
Darkness was falling as I approached the exit for Lamoni, a small college town where my usual traveling companion had applied for a job when we were considering that she would move to Iowa in 2000. I was as pleased that she didn't take on this long commute as I was that we hadn't bought a home in western Iowa. As nostalgic as this trip was, I had no regrets about the roads not taken.
The sight that greeted me at the first Missouri exits was familiar not just from all my trips up and down this highway, but it mirrored what I had seen Saturday, traveling up I-29: Missouri fireworks stands. They are permanent buildings, but I don't know if they're open year-round. Fireworks are illegal in Iowa and firework stands are plentiful just south of the state line. And the parking lots are full in late June and early July.
I was amused to see that Iowa's ban on fireworks has endured over the decades I've been driving these roads. The Missouri fireworks vendors probably pay their Des Moines lobbyist well.
The sun was setting about the time I was driving past the fireworks stands. So the Missouri sights I saw on that trip were those with lights. Again, the exit signs reminded me of stories from years past. And some familiar restaurants and gas stations reminded me of times when my stomach, bladder or gas tank couldn't make the trip without stopping.
Finally I made it to Kansas City for dinner with a cousin at my favorite barbecue joint, which I still often call by its name from 30 years ago, when I first fell in love with it.
Lee's Summit
Monday morning I visited Mom at her nursing home in Lee's Summit. Before long, it was time for the final leg of my trip, another I have taken many times. I won't guess how many times I've flown in and out of Kansas City International Airport. Not a hundred, but certainly dozens. Since Mom moved to Lee's Summit more than 20 years ago, most of the visits have involved driving I-435 along the east and north sides of the metro area to the airport. But somehow I took the wrong turn Monday, adding a few more minutes to the trip (fortunately I'd allowed plenty of time).
Sometimes, however familiar a route is, it still has surprises in store.